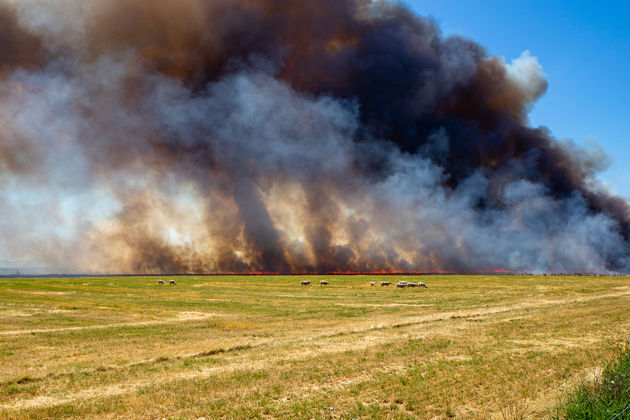 Starting the weekend of December 11/12 and for the next few days, Mother Nature was not kind to central North America. A clash between warm, humid air and cold dry air occurring at an unusual time of the year caused weather events resulting in heavy damage across the Heartland.
First was the night of a devastating swath of tornados that swept from Arkansas to Ohio, killing over a hundred people and causing property damage being measured in the 10 digits. Grief was a ubiquitous presence.
But Ma wasn't done yet - the clash between the air masses generated strong winds which promoted very fast-moving and intense wildfires across the western Plains, primarily in Kansas. We have heard a number of stories where folks had to flee a tsunami of fire, often without being able to grab their personal treasures and in one case related to us, even without household pets. A reminder to us all of the tenuous nature of life in general, and how quickly our individual worlds can change.
For many on the High Plains, livestock losses were real and significant. Large animal veterinarians were busy round the clock visiting pastures in the burnt areas, assessing livestock, tending to their needs, all too often resulting in the euthanasia of survivors severely injured by the flames.
https://www.agriculture.com/ba...

Fire is one of the main perils covered in a Specified Perils livestock insurance policy, and these policies include coverage for Humane Destruction of animals when injured by perils covered by the policy as well. Such insurance is generally quite modest in cost and can be a true financial safety net for farmers and ranchers. This is especially true when larger events occur as they did at some places last week, or as they can when winter blizzards hit. Specified Perils coverage extends to death by smothering in a blizzard and hypothermia (none-confined smaller young calves excluded), making the coverage of even more value to those on the western Plains.

As things wind down post-harvest, this may be a perfect time for farmers and ranchers to consult with their local professional independent insurance agent and review their portfolios.
We cannot yet control Mother Nature, but we have some excellent tools available to soften her blows when she turns angry.
-----
May those with heavy hearts find relief and comfort, especially 'during the Christmas season.
-----
IDEAL Agriculture & Marine offers a full range of livestock and animal mortality products, including business interruption for many diseases. Whether current threats such as African Swine Fever and High Pathology Avian Influenza; more remote catastrophic diseases such as FMD; or more common but still costly diseases such as Salmonella, we can craft cost-effective solutions for treating the risk and mitigating the effects of a break. Coverage can apply to animal producers and related supporting industries. Insurance agents and brokers having clients within the animal agriculture sectors are encouraged to visit with us for more information.